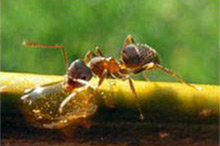 ★★★★★

based on

18

reviews
Overall rating:
Ant Control Hemsworth- Yorkshires Ant Exterminators for Domestic & Commercial Premises
Welcome to Ant Control Hemsworth. We can help with all your Ant Control problems. Ant Control Hemsworth offers a reliable and efficient Ant Control & prevention service in Hemsworth and surrounding areas. We aim to provide a pest free environment for your commercial business or domestic premises.
For a quotation, free survey or advice please contact Ant Control Hemsworth on 07540722770. Or complete our online form for a Instant Response to your enquiry.
Appointments Available Today, No Call out charges, Free Survey

About Ants
Ants start to appear around spring time. The most common species that invades the home is the Black Ant or Garden Ant.
Ants are highly organised social insects and will work together to construct their nests and invade buildings in search of food.
Ants move back and forth from nest to food (often in a straight line) and can be seen trailing around wall junction and door frames. Their habit of excavating small piles of earth or earth pellets indicates a nest entrance.
Flying ants swarm for only a few days in July or August, these are the reproductive males and females. Mating takes place in the air and the female then seeks out a nest site where she stays for the winter, where she lays eggs the following spring to start up a new colony. The males die off after the nuptial swarming flight.
We cover the following Ant Control Problems.
Ant Control, Ant removal, Ant Infestation, Ant control Quote, Ant control Cost, Cheap Ant Control in Hemsworth
Please leave a Review about our Service